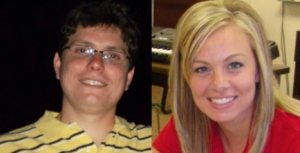 Written by Jacquelyn Prestegaard
Two outstanding graduate students were selected to receive the Joseph P. Fontenot Travel Scholarships by ASAS this year. The award gave the students the opportunity to attend the Joint Annual Meeting in Kansas City, with all travel expenses paid.
Bruno Ieda Cappellozza is originally from Brazil. He completed his Bachelor's in Animal Science at Sao Paolo State University in 2009.
"I actually came into animal science by accident," Cappellozza said. "I attended one lecture and was instantly interested in it."
He came to the United States and began his Master's degree at Oregon State University in 2010. Upon completing his M.S., he immediately began pursuing his Ph.D. at Oregon State.
Cappellozza focuses on beef cattle in particular, studying different aspects of nutritional management and physiology. For his Ph.D. he is looking at nutritional alternatives to improve the reproductive performance of beef females. He expects to complete it in the spring of 2015. His career goal is to work in the industry and apply the techniques he learned in graduate school.
Cappellozza successfully presented some of his work at JAM. He says he also enjoyed listening to other presenters at the meeting.
"The great thing about JAM is the variety of subjects presented, from small ruminants to large ruminants and so on," Cappellozza said. "While there we can get so much new and good information from other scientists to help improve our own studies."
Erika Lundy is currently in the second year of her Master's program at Iowa State. She grew up on a farm and has been heavily involved with the beef industry most of her life.
"Through 4-H and FFA, I was naturally drawn to study animal science," Lundy said.
She attended Iowa State as an undergraduate where she received her B.S. in Animal Science. Her involvement in research at the school farms led her to continue her education as a Master's student.
Her current project deals with a "new form of distillers grains" from the cellulosic ethanol process. The study, which was presented at JAM, ultimately found that there is little difference between traditional distillers grains and distillers grains from the cellulosic ethanol process.
Lundy says she would like to go into the industry or extension upon completing her Master's.
"I want to take what I've learned at school and be able to relay my work back to the producer," Lundy said. "I believe it's important to establish good relationships with them."
The American Society of Animal Science is a professional organization that serves more than 5,000 animal scientists and producers around the world.