Don't Miss Out!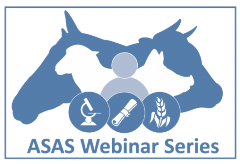 Did you miss the third installment of the ASAS Webinar Series, Challenges and Opportunities of Moving Your Courses Online-a panel discussion with panelists Dr. Jodi Sterle, Iowa State University; Dr. Debra Aaron, University of Kentucky; Dr. Scott Radcliffe, Purdue University and Dr. Cassandra Jones, Kansas State University?
Here is a link to the webinar recording, https://vimeo.com/403860309
We just finished the fourth "live" ASAS Webinar Series, Challenges and Opportunities of Courses Moving Online-a Student's Perspective with panelists, Joslyn Beard, University of Nebraska; Russell Carrell, Auburn University; Emily Melchior, New Mexico State University; Pedro Carvalho, Penn State University and Brooke Clemmons, University of Tennessee. Look for weekly webinar announcements as we continue our increased webinar options during this time of COVID-19 in-person restrictions. Recordings will be released after each webinar for the previous webinar in the ASAS Webinar Series.