Companion Event II: State Capital and Wisconsin Historical Museum Tour - Walking Tour
Don't miss out on the some of the fun events happening during the 2020 ASAS-CSAS Annual Meeting in Madison, WI.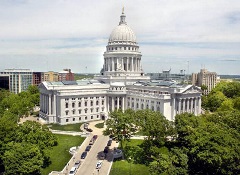 July 22 – 10:00 AM – 4:00 PM – ticket price includes guided tours and lunch
Join us for a day of guided tours just a couple blocks from the Hilton Madison Monona Terrace Hotel.

We will start things off with a tour of the Wisconsin State Capital at 10:00 AM. Reaching to a height of over 200 feet, the Capitol dome is topped by Daniel Chester French's elegant gilded bronze statue, "Wisconsin." Edwin Blashfield's mural "Resources of Wisconsin" lavishly decorates the ceiling of the rotunda, which is the only granite dome in the United States. Inside, visitors are treated to the unique textures of 43 varieties of stone from around the world, hand-carved furniture and exquisite glass mosaics.
Lunch at area restaurant as a group from 11:30 AM to 1:00 PM
Guided Tour of the Wisconsin Historical Museum from 1:15 PM to 2:15 PM. The current home of the Museum was built in 1953 and originally housed the Wolff, Kubly & Hirsig hardware store. The Historical Society renovated the building and the Museum moved in during April, 1986. Discover the stories of Wisconsin's heritage. Stand in a replica of a 1,000-year-old house and visit a fur trade post. Walk into a lead mine and climb up in a tractor cab. Explore the stories, ideas, attitudes, work, and recreation that make our rich history.