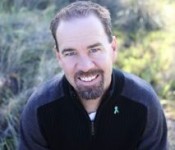 June 26, 2015 – Dr. Ryan Ashley has been a faculty member at New Mexico State University for only five years. Nevertheless, his excellence in animal science research, scholarship and service reach far beyond his years.
Ashley is the winner of this year's WSASAS Young Scientist Award, an honor recognizing outstanding achievement by young members of the Western Section of the American Society of Animal Science. His accomplishment was recognized at this year's Western Section Meeting in Ruidoso, New Mexico.
Ashley grew up on his family's cattle ranch in eastern New Mexico. He worked with cattle starting at a young age, helping in all aspects of ranching and caretaking. He was also active in 4H and FFA, showing steers and judging horses, dairy, and livestock. It was those experiences that sparked a lifelong interest in animal science.
He completed a B.S. and an M.S. from New Mexico State University (NMSU). Immediately after, Ashley began his Ph.D. in Biomedical Sciences in Reproductive Physiology at Colorado State University under advisors Dr. Terry Nett and Dr. Gordon Niswender (both of whom are former WSASAS Young Scientist Award Winners.) There, Ashley was among the first to clone and characterize a non-nuclear progesterone receptor in mammals, providing a novel mechanism of steroid signaling.
He later joined the Dr. Tod Hansen's laboratory for postdoctoral training, where he received USDA funding to pioneer research in chemokine signaling during early pregnancy in livestock.
In the fall of 2010, Dr. Ashley accepted a position as an Assistant Professor at his alma mater, NMSU. He currently has a 70% research, 20% teaching and 10% service appointment. Since then, he has mentored nine undergraduates and served as primary advisor for two Ph.D. and five Master's students.
Ashley continues to research factors critical in establishing and maintaining pregnancy in livestock, and how perturbations such as maternal obesity or exogenous steroid administration influences early gestation. In addition, Ashley has received NIH funding in collaboration with scientists at the Fred Hutchinson Cancer Research Center to investigate how proteins at the maternal-fetal interface during early pregnancy modulate breast cancer biology.
"Conducting research has many ups and downs, but having a job where I get paid to be a student for the rest of my life and get to learn and perform cutting edge research is truly rewarding," said Ashley.
His sustained passion for improvements in animal productivity creates innovative research in reproductive physiology. Overall, Ashley embodies a model, young animal scientist.
"I am grateful and humbled to be listed with so many outstanding previous [WSASAS Award] winners that have made tremendous impacts in the field of Animal Science," said Ashley. "I genuinely hope I can follow in their footsteps and contribute to Animal Science as they have done."
Members of the Western Section of the American Society of Animal Science who are less than 40 years of age are eligible for the WSASAS Young Scientist Award. The American Society of Animal Science is a professional organization that serves more than 5,000 animal scientists and producers around the world.
Read more on WSASAS Award guidelines, and see a list of this year's award winners.
Media Contact:
Kim Schoonmaker
ASAS Scientific Communications Associate