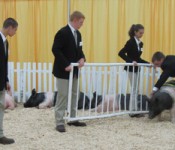 By Lauren Williams / ASAS Communications
4-H youth from across the country gathered on Nov. 12 to compete in the National 4-H Livestock Skillathon Contest at the North American International Livestock Exposition. The Skillathon tested kids on subjects like livestock identification, animal feedstuffs, proper animal handling, meat quality and identification, animal performance and growth. The participants also answered practical questions about production situations and management for many livestock species.
"The competition is very comprehensive, and we expect the kids to know a large amount of information. We also try to stay current with industry trends," said Robert Ebert of Auburn University, who helps to facilitate the competition.
Since its start in 1999, the National Skillathon has grown from eight teams to 19. The Skillathon is a two-part competition, including an individual section and team section. During the individual round, participants move through six rounds to identify meats, measure wool quality, select quality hay, identify livestock equipment and take a written test. Even though they weren't able to touch the hay, many of the participants weren't afraid to lean down to smell the hay.
In the team round, team members work together to answer questions and present their reasoning for scenario situations. This year's contest featured swine handling, feed identification, meat quality assessment, video scenarios and a culling scenario. The culling scenario featured eight live goats, and teams had to decide which four animals they would keep and which four they would cull. The teams then explained their reasoning to the judge.
Leading up to the competition, teams spent lots of time preparing for the contest and the contest provided a learning experience for the participants.
"The team was selected in August at the state fair and then the team members are given members to research," said Steve Austin, the coach of the Illinois team. Austin explained that the members of the team are from all over the state, and it's difficult to get everyone together to practice. He said they rely on a lot of individual research.
Devin Ammann, a member of the Illinois team, said, "We are all hog guys, but the skillathon allowed us to learn how to raise other livestock species."
"The competition has taught me teamwork and how to become a leader," said Daniel Ammann, a Illinois team member.
That teamwork is what judges were looking for when it came to the animal handling portion of the contest. Team members had to work together to move two pigs into a scale to weigh them and calculate average daily gain. The team also had to show the judges where they would inject a pig with medication and what type of needle should be used.
"The Skillathon provides kids with life skills and teaches them management," said Dwight Loveday of University of Tennessee and director of the National Skillathon.